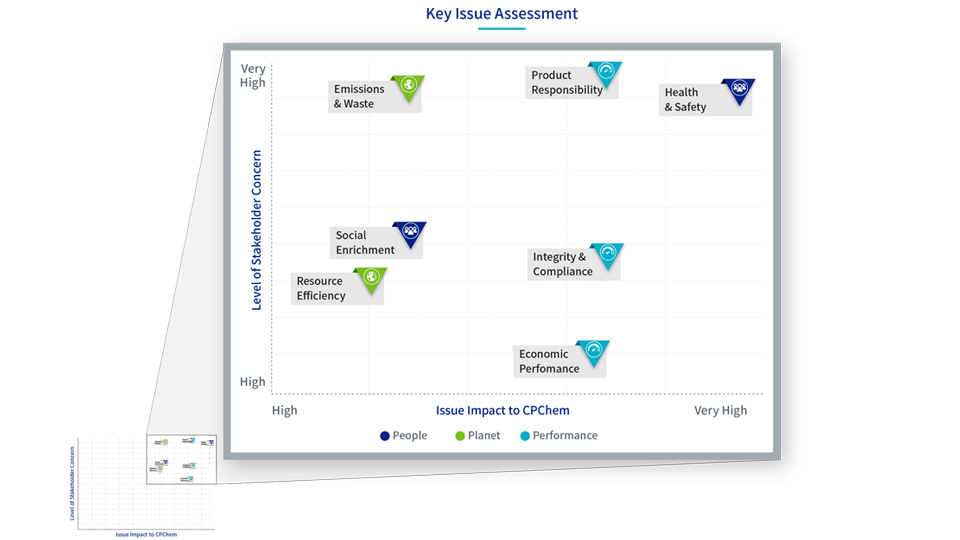 CPChem has leveraged assessments conducted with internal and external stakeholders to identify key issues to our business.
In doing so, we hoped to accomplish several goals:
Gain insight into the social, environmental, governmental and regulatory issues facing the company.
Hear, collect and prioritize the sustainability concerns and expectations of everyone we interviewed.
Assess how our company allocates resources to ensure our approach was effective and impactful.
Ensure we met international best practices in corporate sustainability reporting.
In 2014, we conducted our first issue assessment which led to the formation of our seven Sustainability Focal Points. In 2018, we leveraged online tools to reaffirm our initial issue assessment and we plan to conduct another issue assessment in the near future. Although our key issues have remained consistent, the importance to our stakeholders did change. This assessment process has also highlighted many challenge areas for us as a company that we must address 
to achieve sustainable growth, including fresh water use and the diversity of our talent pipeline.
---
Stakeholder Engagement
Our stakeholders are important to us and our company's sustainability efforts.
We identify our stakeholders as employees, communities, NGOs, governments suppliers/customers and the industry trade sector. These stakeholders were identified carefully through internal meetings and the support of advisors. We leverage different platforms to engage with each stakeholder group to receive feedback on key issues as it pertains to our business.
Creating dialogue with our stakeholders has given us valuable insight into the social, environmental and governance issues that face our company and industry. We have leveraged the feedback from stakeholders to assess how the company is allocating resources to ensure the most effective and impactful sustainability performance.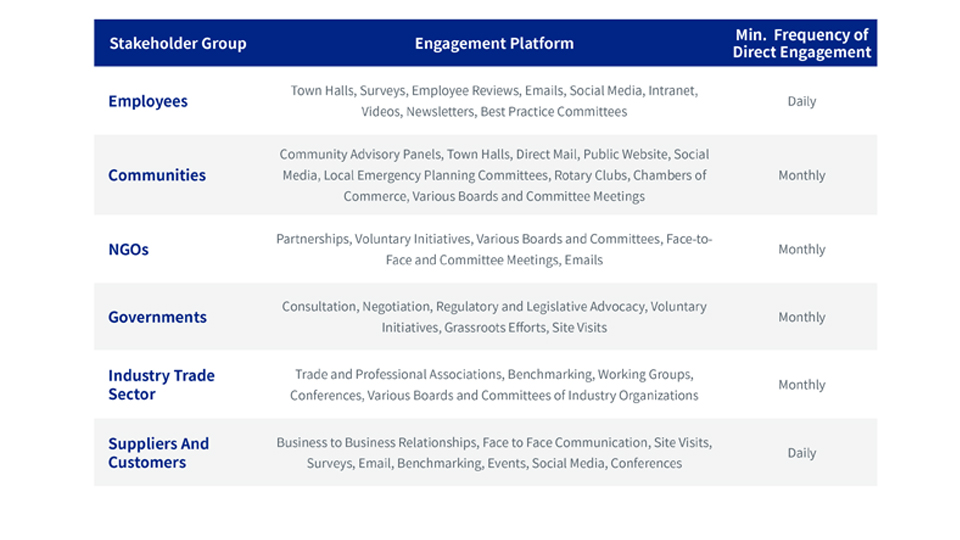 ---
Operational Excellence System
CPChem takes pride in striving for Operational Excellence (OE), that is, to be the best company in our industry by doing the right things, the right way. We take care of our people, our assets, the environment, our customers, and communities where we operate, and engage in business activities.
Our primary focus in these efforts is zero injuries and zero incidents throughout our global operations, including our affiliates.
Our OE System is a risk management process that provides a global framework that aims to help CPChem standardize our efforts, continuously improve and raise the level of operational discipline in areas of Environment, Health, Safety, Security, Reliability and Quality. It is built upon expectations for involved and effective leadership, full employee participation, compliance with all regulatory requirements, and integration of OE into ongoing improvement of all business results.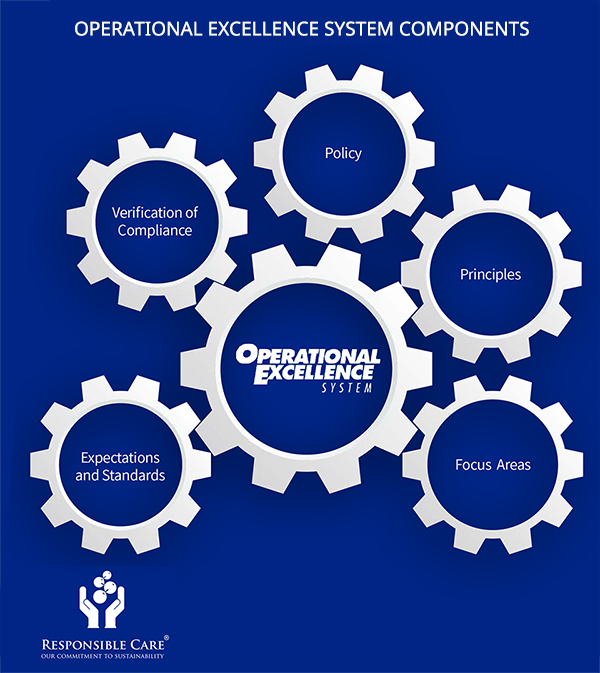 The OE System includes five components: 
Policy 
Principles
Focus Areas
OE Expectations, Global OE Standards, and Required Manufacturing Standards
Verification of Compliance and Management System.
These components comprise our management system.
Furthermore, the OE System is structured to fulfill American Chemistry Council (ACC) and the International Council of Chemical Associations (ICCA) Responsible Care Management System® (RCMS®) requirements. The OE system covers many focus areas including, but not limited to:
Occupational Health & Safety
Product Stewardship & Product Safety
Process Safety
Pollution Prevention
Security
Resource Conservation
Emergency Preparedness and Response
See how we're turning our mission into action.