---
Aromatics Technology
Chevron Phillips Chemical's Aromax® Technology is the premier on-purpose benzene production technology. This technology, paired with the appropriate feedstock, provides a superior ability to convert light hydrocarbons to aromatics and hydrogen. It is best suited to upgrade low-value feedstocks and/or for addressing a hydrogen (H2) shortage.
---
Process
The Aromax® Process selectively converts light paraffins and naphthenes to hydrogen and aromatic products utilizing conventional fixed-bed reforming equipment. The following are fast facts about the Aromax® Process:
First reforming process based on a zeolitic catalyst
Best suited for converting C6–C8 hydrocarbons
Exceptional selectivity for converting C6 and C7 paraffins and naphthenes to benzene, toluene and hydrogen
Process includes a high-efficiency sulfur control system to eliminate catalyst poisoning by sulfur
Toluene extraction may or may not be required
Proprietary catalyst technology

---
Advantages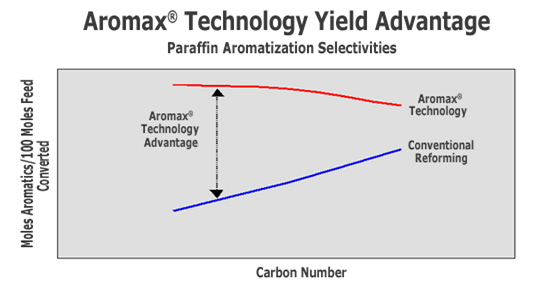 Chevron Phillips Chemical's Aromax® Technology is the premier on-purpose benzene production technology.
High yield of benzene, toluene and hydrogen from C6/C7 naphtha
Enables the use of lower-priced paraffinic naphtha
Sulfur and carburization control
16 years of commercial experience
Proprietary sulfur and carburization control technology
Licensees
We engage in a limited and highly selective licensing strategy for the Aromax® Technology. The key drivers behind licensing the proprietary technology include:
Geographic fit
Feedstock availability/suitability
Discounted product offtake or equity position by Chevron Phillips Chemical
---
Technical Service
By licensing our technology, licensees have direct access to our technical resources around the globe. This relationship enables licensees to consult with top researchers and engineers to assist in:
Catalytic development and improvements
Developing improved process technologies
Exploring lower cost routes for manufacturing
Our technology package typically includes:
A kickoff premises meeting
An orientation meeting
Technology manuals
Laboratory analysis manuals
A process design package
Review of process design package with licensee
Technical assistance during mechanical design and construction of plant
Review of mechanical flow sheets
Hazop assistance
Training of licensee operating and laboratory personnel
Plant inspection
Plant startup assistance
We continue to evaluate new licensees and partners on a selective basis. Strategic licensing decisions are made based on geographic and company specific information.